eCabinLog8 is a mobile solution for recording aircraft faults identified by cabin crew.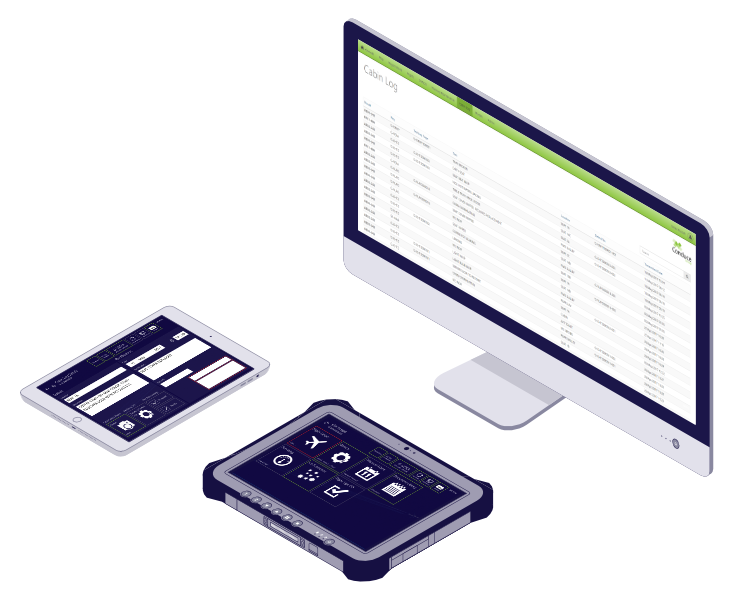 During a typical flight, cabin crew become aware of aircraft faults. Often these are cosmetic, such as soiled seat covers or carpet stains, but are sometimes technical faults, such as lights not working or broken equipment. These faults are recorded in the paper cabin log, which is usually a multi-copy paper book with serialised pages, to enable the cabin crew to record faults during the flight. Prior to arrival at the destination airport, the cabin log is shared with the cockpit crew and any perceived technical faults are transcribed onto the TLP and become tech log defects. Some airlines convert all cabin faults to TLP defects, whereas others only convert the genuine airworthiness faults, leaving the non-airworthiness (usually cosmetic issues) to be tracked and fixed by cabin services.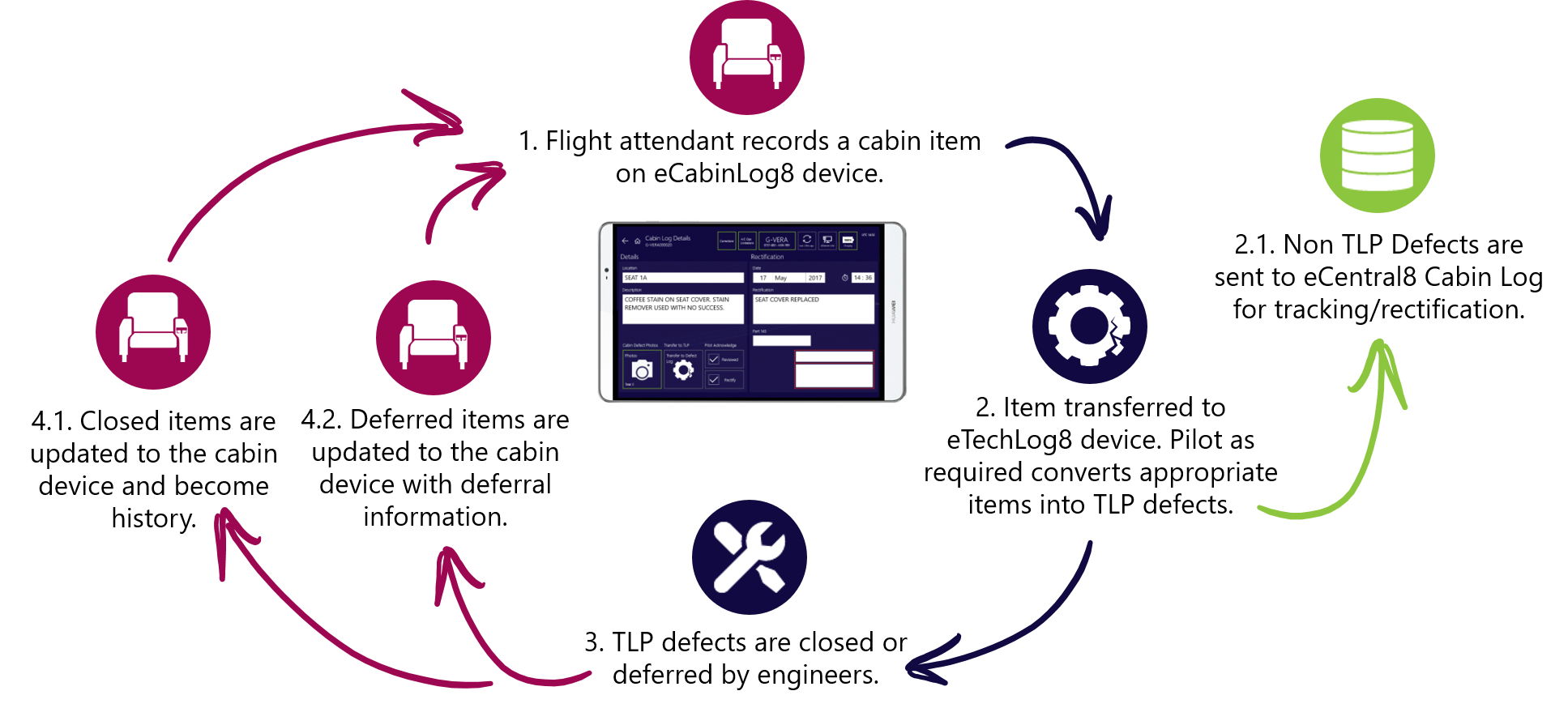 eCabinlog8 carries out this process electronically, removing not only the need for the paper cabin log but also the requirement for the pil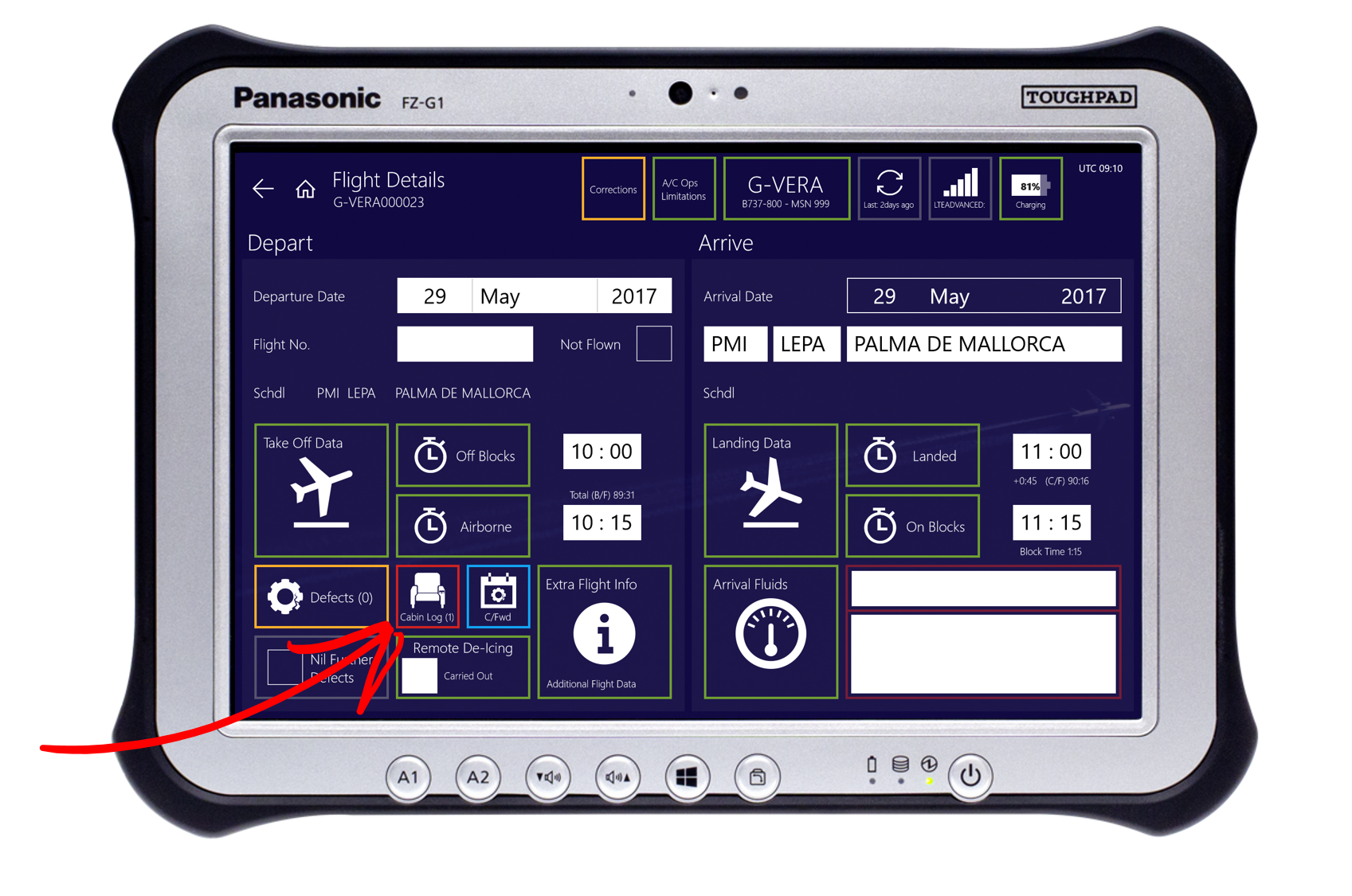 ots to transcribe the technical faults into TLP defects. eCabinLog8 is a simple application that can be provided for IOS, Android or Windows devices. It is often useful for a photo to be taken of the cabin fault, so generally the cabin log device will have a camera. During the flight cabin crew may record cabin faults in eCabinLog8 (there may be multiple eCabinLog8 devices on larger aircraft). Faults are wirelessly transmitted to the Cockpit eTechLog8 device and the flight crew are alerted in real time.
The eTechLog8 Flight Details screen has a Cabin Log tile that becomes red when Cabin Log items are detected, enabling the flight crew to review the cabin faults (including photos), and convert the applicable faults to TLP defects by simply tapping a tile and signing it off.
Features:
Companion application fully integrated with eTechLog8.
Can be made available on any device (IOS, Android or Windows) or on aircraft ToughPads
If separate ToughPad is used for eCabinLog8 it additionally acts as the failsafe device for eTechLog8.
Device camera can capture images of item, along with location and description.
Secure peer-to-peer connection between eCabinLog8 and eTechLog8.
Pilot can instantly view, review and, if required, convert to TLP defect on eTechLog8 device.
Defects deferred or closed and logged by maintenance.
Non-airworthiness items are reviewed and forwarded to Cabin Log system for tracking and to be rectified.