Conduce and Royal Brunei Airlines (RB) are very proud to announce that on the 18th September 2019 the Brunei Department of Civil Aviation (DCA) have issued a "Letter of No Objection" for Royal Brunei Airlines to use Conduce eTechLog8 on the RB B787 fleet.
The letter states "The Department of Civil Aviation hereby has no objection and grant an approval for the utilisation of Electronic Technical Log on Royal Brunei's B787 fleet"
On Wednesday 9th October the first RB B787 Dreamliner Registration V8-DLC operated Brunei to Melbourne Flight Number BI 005 without the paper technical log,
Acting Senior Vice President Engineering Hj Badarudin Bagol stated "The implementation of Conduce eTechLog8 with Royal Brunei has gone extremely smoothly. The first DCA approved trial flight occurred on 25th April 2019, which was just 4 months and 16 days from the project start date. Parallel run trials with the paper system were completed over the Summer resulting in RB receiving full approval by September". RB started the project back in December 2018 with a dedicated team to manage the project, which involved various stakeholders including the Brunei DCA.
Badarudin a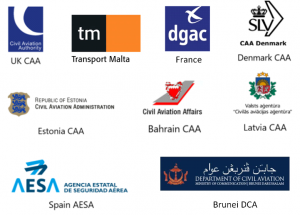 lso explained "This was a very interesting project with a challenging timeline. It was not an easy transition, especially after more than 40 years of RB operations using the paper system. In addition, this is only part of the whole digitization paperless operation project being carried out by RB engineering. We have however managed to overcome all hurdles and complete the project successfully."
Conduce CEO Steve Russell noted that "It has been an exciting 2019 for the Conduce team, with Royal Brunei, Airbus Beluga and SmartLynx Malta all receiving respective "Letters of No Objection" to use eTechLog8 and so eliminating the paper Technical Logs. Conduce are also expecting to gain FAA approval for a North American Florida based customer by the end of 2019.
About Conduce: With offices in the UK and Australia, Conduce provide robust mobile solutions for the world's airlines. eTechLog8 is the leading ELB solution to replace paper technical log books. eTechLog8 is certified by many NAA's, often managing multiple AOC's. Full integration with the majority of MIS/MRO back office airline systems is standard. (www.conduce.net)
About Royal Brunei Airlines (RB): Royal Brunei currently operates a fleet of fourteen aircraft comprising of five Boeing 787-8 Dreamliner aircraft together with seven Airbus A320NEO aircraft and two Airbus A320 CEO Aircraft. RB now operates one of the youngest fleets in the world with an average fleet age of just over two years.
In 2018, RB received the APEX Official Airline Ratings™ Four-Star Award and as winners of TripAdvisor Travellers' Choice Economy Class – Asia and Travellers' Choice Regional Airlines – Asia.
In 2019, RB moved up twelve places to be at number 66 in the top 100 airlines in the world and awarded the Skytrax 4 Star Airline Rating and APEX Official Airline Ratings Five-Star Major Regional Airline Award.