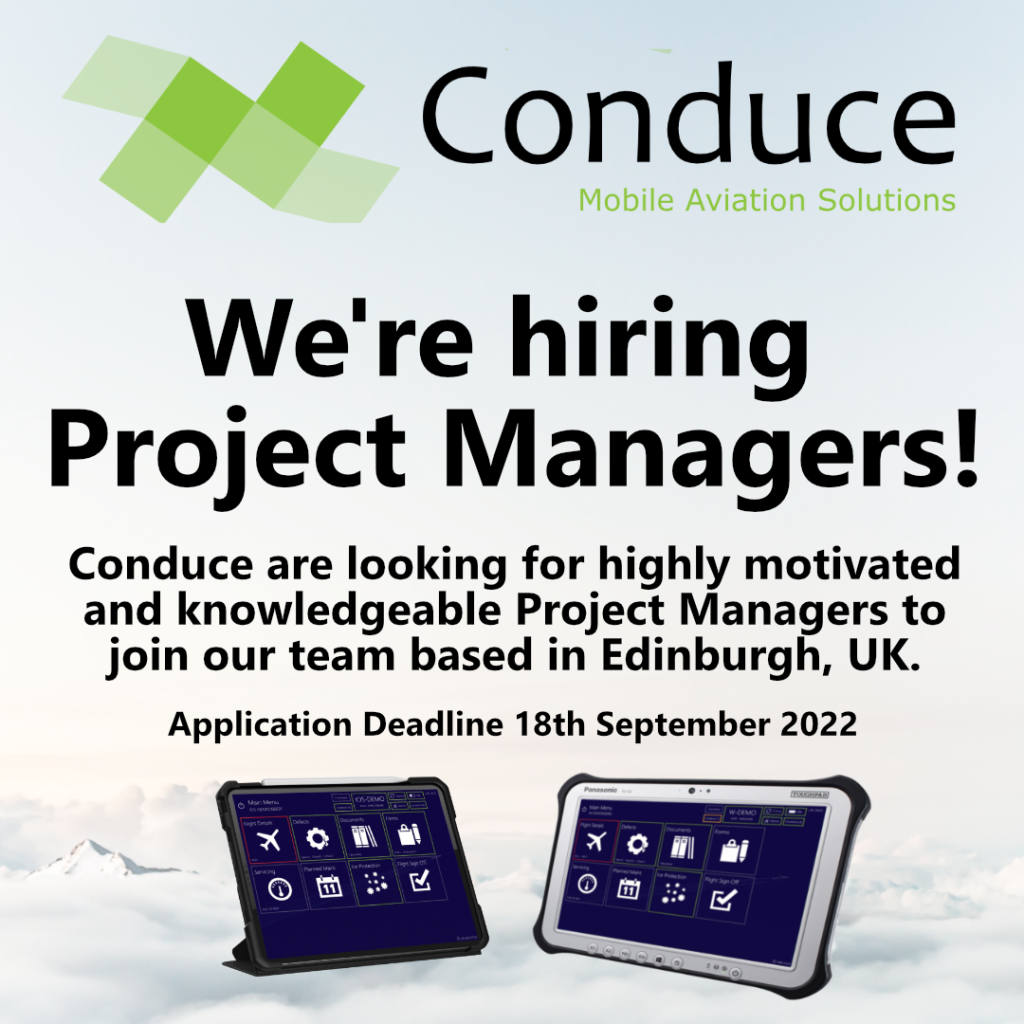 Project Manager Job Opportunity
Conduce are looking for highly motivated and knowledgeable Project Managers to join our team based in Edinburgh, UK.
Whilst the Project Manager role is primarily focused on implementing and supporting eTechLog8 projects, we are a small team and so there are also many opportunities to get involved in other areas such as sales and marketing, and to lead on innovative projects in areas of interest using cutting edge technologies. There are many opportunities for travel and working with experts across the industry, from international civil aviation authorities to every part of our customer airlines' business operations. This role will suit an experienced and creative individual with Aviation industry experience, who is seeking a varied and challenging next role.
To apply for this position please send a cover letter explaining why you think you would be a good candidate (no longer than 500 words), and a CV to apply@conduce.net
Application Deadline: Sunday 18 September 2022.
Interviews will be scheduled on a case-by-case basis and will be conducted over video call where required.

At a Glance:
• Location: Edinburgh, United Kingdom. Conduce provide relocation packages and UK Visa
sponsorship, please indicate if you will need to relocate or apply for a UK visa on your application.
• Salary: Commensurate with experience.
• Hours: minimum 40 hours per week. Office hours are 8.30-17.30 Monday to Friday. However, due to
the nature of the Project Manager role some out-of-hours work is required due to work with
customers in different time zones and support.
• Benefits:
✓ Competitive salary which is regularly reviewed.
✓ 26 days annual leave plus Scottish Public Holidays.
✓ Extensive travel opportunities.
✓ Flexible work environment.
✓ Learning & development opportunities.
✓ Teambuilding events.
✓ Relocation package.
✓ Visa sponsorship