Conduce are proud to announce that Royal Brunei Airlines (RB) have selected eTechLog8 to replace the airline paper technical log books for both their Boeing and Airbus fleets.
Conduce eTechLog8 eliminates the line maintenance paper processes with regards to the aircraft technical log and deferred defect/cabin logs.
eTechLog8 is a Universal Windows Platform (UWP) application that is mostly used offline. The solution only requires an internet connection to transmit data when appropriate.
Conduce CEO Steve Russell, stated that "Conduce are honoured and excited to have been selected by the Brunei Darussalam national flag carrier."
Conduce are committed to setting up an office in the Far East, as there is an enthusiastic local airline market for paperless operations.
eTechLog8 with RB will be integrated with the in-house MIS system AMOS, utilising the AIM SPEC 2000 compliant "TRANSFER_ATA_ELB" interface.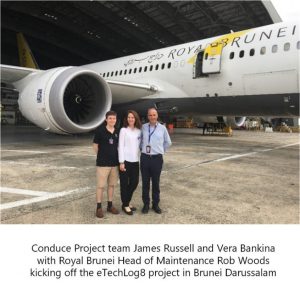 Rob Woods (Head of Engineering, Royal Brunei Airlines) comments "The Conduce eTechLog8 solution has been selected as a result of a formal RFP process. eTechLog8 is both compliant and flexible, which facilitates the operational needs of our Airbus and Boeing fleet. The extensive EASA NAA approvals for eTechLog8 is a strong positive along with Conduce's demonstrated experience of implementing ELB solutions".
About Conduce: With offices in the UK and Australia, Conduce provide robust mobile solutions for the world wide airline industry. eTechLog8 is the leading ELB solution to replace paper technical log books. eTechLog8 is certified by many NAA's, often managing multiple AOC's. Full integration with the majority of MIS/MRO back office airline systems is standard. (www.conduce.net)
About Royal Brunei Airlines (RB): Royal Brunei currently operates a fleet of fourteen aircraft comprising of five Boeing 787-8 Dreamliner aircraft together with seven Airbus A320NEO aircraft and two Airbus A320 CEO Aircraft. RB now operates one of the youngest fleet in the world with an average fleet age of two years.
In 2018, RB received the APEX Official Airline Ratings™ Four-Star Award and as winners of TripAdvisor Travellers' Choice Economy Class – Asia and Travellers' Choice Regional Airlines – Asia.  In the recent Skytrax airline rating RB moved up fourteen places to be at number 78 (from 92) in the top 100 airlines in the world.